Women and Tradeshows: The Early Years

Women and Tradeshows: The Early Years
March is Women's History Month, a time to recognize and celebrate influential women, whether they be inventors, scientists, entrepreneurs, politicians, doctors, friends or family. Everyone has at least one woman in their lives, and if lucky and blessed, they have many more than one. Below are some women who impacted tradeshows, the women's movement and the way women were viewed during the late 19th and early 20th century.
Five years after women in the United States gained the national right to vote, the first "Woman's World's Fair" was held in Chicago, the third week of April, 1925. It showcased women's accomplishments and innovations in the arts, sciences and business. The show offered career opportunities, and attracted somewhere between 160,000 and 200,000 people (news reports from the day vary; but either number is impressive for any eight-day show). It had 280 booths highlighting a hundred different enterprises. National and regional companies, newspapers, hospitals, lawyers, inventors, banks, local stores and artists all exhibited, with the largest company being Bell Telephone.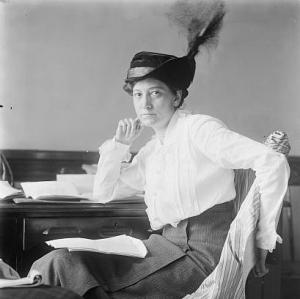 The fair was the brainchild of Helen Bennett (journalist, businessperson, author of "Women and Work"), and Ruth Hanna McCormick (publisher, activist, congressperson and the first woman to manage a presidential campaign). This fair was an exclusively women-run and women-managed event. The first women's tradeshow made more money than most single shows and fairs preceding it (all events run by men); it made the equivalent of about $850,000 in today's money! It was the first "world's fair" celebrating women, and it became a true international show three years later, with displays from nine foreign countries. It was the first fair exclusively for women; but it was not the first major event honoring women's achievements.
Fifty years earlier, Elizabeth Duane Gillespie was the driving force behind the first women's pavilion at a world's fair. The great granddaughter of Benjamin Franklin was one of the lead fundraisers for the 1864 "Great Central Fair" of Philadelphia, which raised money for the US Sanitary Commission in order to aid Civil War soldiers with food, medical supplies and hospital ships. Because of this success, Gillespie was recruited for the Centennial Exposition. She and her "army of volunteers" promoted the event and raised more than a million dollars. When the executive committee decided not to include women's exhibits in the Main Hall 11 months prior to the show, Gillespie raised new funds for a separate Women's Pavilion–a 30,000 square foot structure, where more than 75 women inventors displayed patented products.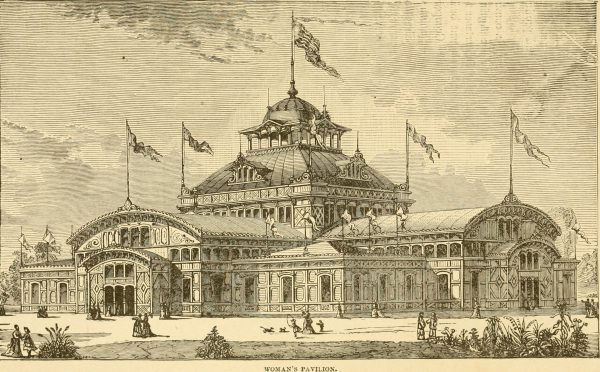 The 1876 pavilion was an organizational platform propelling similar structures at future shows: New Orleans in 1884, Chicago in 1893, Atlanta in 1895, Nashville in 1897 and Buffalo in 1901. All these expositions had a separate woman's pavilion on the fairgrounds, but the largest structure was in 1893 at the World's Columbian Exposition. That was the first building at any world's fair to be designed by a woman, a truly major accomplishment! The 1893 Women's Building was designed by Sophia Hayden, the first female MIT architectural graduate. The building was the first one of the major structures to be completed; it had an exhibitions space, an assembly room, a library and a hall of honor. It was a two-story "Great Hall," with approximately 77,000 square feet on one level. It included a model hospital and a model kitchen.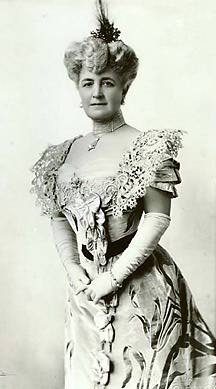 Bertha Palmer was the powerhouse behind the women's presence at the Columbian Exposition. She was the President of the Lady Board of Managers, a philanthropist and the "Queen of Chicago Society." Legend has it she invented, or at least was responsible for, the chocolate brownie, and its distribution at the fair. What is not a legend, is that Palmer was an astute and very successful business person, a pioneer in Florida real estate and a progressive land developer.
Bringing women into tradeshows and prominence helped to propel the suffragette movement forward. In 1920, the 19th amendment was ratified, and women in the United States gained the right to vote nationwide. That same year, according the 1920 census, "about 9 percent" of women were gainfully employed. In 2023, about 55 percent of women are employed, and women CEOs lead more than 10 percent of Fortune 500 companies. Is any of that progress partially due to tradeshows? What do you think? Let us know by emailing newsdesk@exhibitcitynews.com.