Promising Future for a Recovering Events Industry
The future is bright for the meetings and events industry in Mexico and Latin America! This was evidenced by the recent in-person success of IBTM Americas, the leading annual event for the region's meetings, incentives, conference and events industry. Held Aug. 18-19 at Centro Citibanamex in Mexico City and organized by RX Mexico, the two-day event hosted just under 8,000 business meetings. It created an economic impact of more than 70 million Mexican pesos, according to IBTM officials.
Large Attendance
More than 2,000 attendees participated in the bustling show. It included more than 350 exhibitor and co-exhibitor companies, 400 buyers, sponsors and international trade media. All were eager to re-connect and conduct business face-to-face again.
According to IBTM Americas Director David Hidalgo, the 2021 edition of IBTM Americas stood out as a special event, given the great challenges the industry has faced over the past 18 months.
"Times have been difficult, and I can gladly share that the purpose of generating business and actively and economically supporting the reactivation of the industry was achieved," Hidalgo said. "Thanks to the attendees who joined, to the sponsors, international participants who consider the market strategic in the Americas and to all those who do not take their foot off the accelerator and continue to bet on the reactivation of the meetings industry."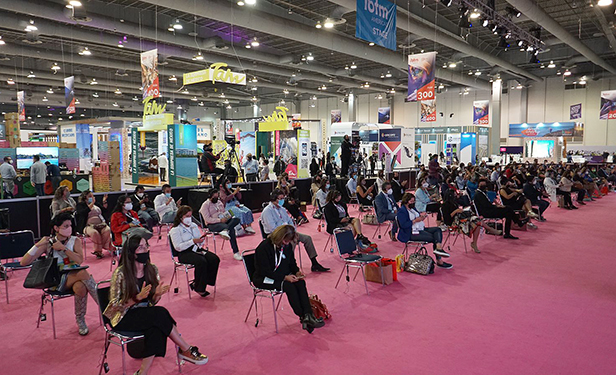 Who's-who of key tourism
The event's attendance was also a who's-who of key tourism, association and media figures from the region, including Carlos Mackinlay, Minister of Tourism of Mexico City; Alejandro Ramírez, president of the Mexican Council of the Meetings Industry (COMIR); Ligia González, youth leader of the COMIR; and María Teresa Villena Ramírez, International Official Commercial Economic Counselor of Peru in Mexico.
"Our job as an industry is to show that we are safe to carry out events with all measures, that we can have human relationships again and that we are capable of reigniting the sector," Alejandro Ramírez said. "We have migrated to the digital era, but we will not stop meeting face-to-face—we see a promising future with a meaningful recovery."
Several events were held during IBTM Americas. These include:
• The first DMCs Latin American Congress
• The Event Design Hybrid Conference
• Tthe third MPI International Hispanic Forum
• The Romance Congress led by the Association of Bridal Consultants.
Leading keynotes
Leading keynotes were delivered by well-known speakers including Salvador Camarena, analyst and political journalist, columnist and host, and renowned former coach and Olympic medalist Luis Fernando Tena.
María Teresa Villena Ramírez, representative of Peru, guest country of IBTM Americas, shared the country's offerings in congresses, conventions and incentive trips. This highlighted the destination's experiences in hosting the most important global events of the last decade. They emphasized that the country is ready to offer unique experiences for meetings and event groups once again.
Fostering Local Connections
The International Congress and Convention Association gave a presentation on "Fostering Local Connections to Ensure Global Business". Gabe Zichermann, entrepreneur, author, startup mentor and gamification expert, presented "Engaging With the Audience of the Future: Gamification, Digital Addition and A-Ha!" To close the event, Andrés Aguilar, inspiring speaker and emotional consultant from the Allenamenti Speakers Bureau, delivered a thought-provoking keynote on "Contentment Strategy."
To maintain a safe business environment, the show followed RX's extensive health and hygiene measures. These are based on the most current scientific data, and guidance from relevant national and international authorities. This includes the World Health Organization, the Mexico City government and Centro Citibanamex.
IBTM is a world-leading showcase for the meetings and events industry. They have a portfolio of events and products offering business solutions across five continents. The portfolio includes IBTM World, IBTM Africa, IBTM Americas, IBTM Asia Pacific, IBTM Wired and IBTM Connect.