Newly Expanded Javits Center Reopens to Full Capacity
Life at one of the busiest convention centers in the U.S. has been anything but idle over the past 18 months of the COVID-19 pandemic. New York City's Javits Center closed for events last year. But, has been humming with other activity ever since. It played a key role in the recovery of the Empire State. It operated as a COVID-19 field hospital then as the largest vaccination site in the U.S., administering more than 600,000 shots.
Behind the scenes, it was also busy working on the final phase of a $1.5 billion expansion. It was completed in May, adding 1.2 million square feet of total event space and some of the most cutting-edge features in the industry.
The new and improved Javits
Now, the new and improved Javits is about to have another starring role in the destination's resurgence, as it reopens to full capacity for trade shows, conventions, conferences and other events in August, luring people back to New York and helping to support local businesses. The first event to mark the reopening of the center is NY NOW, the long-running wholesale market for the retail industry. More than 40 other trade shows, conferences and events are scheduled at the newly expanded center through the rest of 2021.
"This expansion comes at a critical time for our city, our state and our industry. It serves as a sign of hope and rebirth for New Yorkers," said Alan Steel, president and CEO of the New York Convention Center Operating Corp. "With new dynamic spaces and a focus on sustainability and efficiency, this project will reduce our impact on the community while improving our operations. It allows us to host a greater variety of events than ever before."
Features of the expansion include 90,000 sq. ft. of new exhibit space. This brings the center's total to 500,000 sq. ft. of contiguous exhibit space on one level. It also includes 107,000 sq. ft. of meeting space; 113,000 sq. ft. of pre-function space and a 480,000-sq-ft. truck marshaling facility.
New rooftop spaces are also in the mix. These include a pavilion, an outdoor terrace and a greenhouse and a one-acre farm. Produce will be grown for the convention center's banquet operations.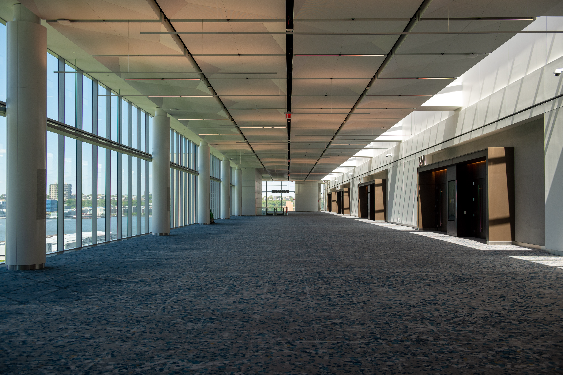 According to Steel, the expansion addresses two important shortcomings that the Javits Center has had since opening in 1986. The first is meeting room capability to accommodate large conferences and keynotes as well as events that have a trade show component and a large conference attendee component. The second is a logistics support center that streamlines freight move-in and move-out.
"With the expansion, we will be able to meet the expected demand from domestic and international association organizations and trade show producers for meeting room space in New York," Steel said.
Steel is excited about the new truck marshaling center, which he called the building's secret sauce. The state-of-the-art, four-level facility has 27 loading docks and accommodates up to 200 semi-trucks at a time. Organizers will be able to control freight deliveries from their computers through a new software program that the Javits Center developed.
"Our goal is to maximize the number of vehicles we can bring off the road, minimizing our impact on the community, while also maximizing the value we can bring to our customers with a more efficient process," Steel said.
Elevated Experiences
The Javits Center took advantage of the rooftop of the new facility to provide standout venue experiences and heighten its sustainability initiatives.
"We have a spectacular four-season, 15,000-square-foot rooftop pavilion accommodating up to 1,500 guests as well as an open-air terrace," Steel said. "At the rooftop farm, we're going to grow vegetables that will go straight into our kitchens to provide a farm-to-table experience right in the middle of Manhattan."
The farm is accessible to guests, as is the greenhouse, which accommodates gatherings such as high-end board meetings or meals for up to 25 people.
Steel expects the rooftop spaces to be a huge hit with organizers, planners and attendees.
"Being on a rooftop in the middle of Manhattan with a view across the Hudson River back to the Empire State Building is a unique experience in itself and very different from what attendees have had before in New York," Steel said, adding that the more open space the center can offer, the better, particularly with regard to concerns about COVID.
From the new rooftop, guests are able to see the green roof on the center's original building, which is home to 35 bird species, five bat species and five beehives, in addition to an expanding array of solar panels that are being installed over the center's 100 conditioning units. Next year, solar panels will be installed on the roof of the expansion.
High-Tech Touches
Improving technological capabilities was an essential part of the expansion, with all of the spaces outfitted with state-of-the-art electronics and other features.
"[We added] sound systems that we've never had before. Digital signage and message boards, and things like a built-in theatrical truss to accommodate video, lighting, and audio equipment in the new 54,000-square-foot special event space with 47-foot ceilings and views of the Hudson River," Steel said.
COVID Protocols
Javits Center has also implemented a number of infectious disease prevention measures in the new and existing buildings. Things such as installing HEPA filtration systems, becoming GBAC STAR-certified by the Global Biorisk Advisory Council help to maintain strict cleaning and disinfection protocols. Water fountains were replaced with water bottle dispensers.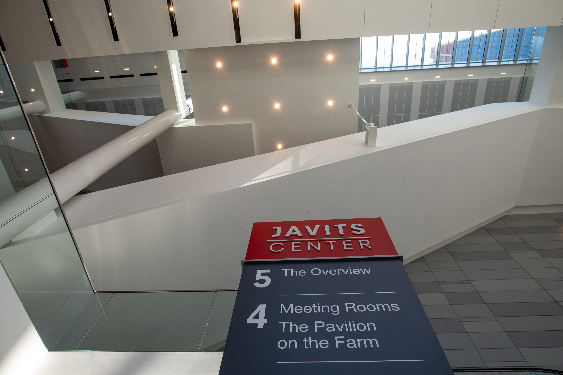 Expanding Lineup of Events
Javits' expansion bodes well for the center's existing clients, including major events such as New York International Auto Show, the National Retail Federation Show and New York Comic Con, as well as new business.
"For events like Comic Con, they don't necessarily need all of the meeting space in the way that we would traditionally think of it in a conference sense. They can use the space just because of the volume of people they have in the building," Steel said. "For the Auto Show, we will have an electric vehicle pavilion, which is something we couldn't do before the expansion."
Expansion
Thanks to the expansion, the facility has put new business on the books for this year, 2022 and beyond, Steel said.
Those events include the investor-focused SALT Conference in September, which moved from Las Vegas, and three conferences in 2022: 75th Chartered Financial Accountants Annual Conference, American Society of Retina Specialists Conference and International Gynecologic Cancer Society Conference.
"The overarching goal with the expansion is to attract the kind of business that we have not previously been able to satisfy," Steel said. "These events are evidence that we are succeeding. We want to continue to be the busiest convention center in the country and perhaps increase the number of days of occupancy by a few more points."
Steel added that the reception from clients who have seen the expansion has been exceptional.
"When Anthony Scaramucci, who runs the SALT Conference, came for a tour, he wasn't expecting too much for a New York convention center, but he left blown away," Steel said. "In fact, he was live-streaming on his Twitter feed as he walked through the building, telling everyone how wonderful it was."
NY NOW Preview
One of the city's landmark retail shows, Emerald's NY NOW, set for Aug. 8-11, will be the first event at the Javits Center since it closed during COVID. Formerly known as the New York International Gift Fair, the show has been running for more than 100 years.
"NY NOW stands out from other trade shows because it's a community of creatives and small businesses, a place where mainly independent retailers come to be inspired, find new products and discover new ideas," said Tim Hart, senior vice president of Emerald. "There's a huge story around the economic recovery of New York City as it reopens after the pandemic, with small businesses coming back to life really being a catalyst, so it's a fitting time for NY NOW to be an integral part of that."
Further elevating the sense of possibility, surprise, excitement and celebration as the city re-emerges, Emerald has reinvented the bi-annual market with new branding, engaging digital experiences and onsite product displays, as well as dedicated space for up-and-coming brands.
Emerald worked with internationally renowned design studio Pentagram and recently appointed Creative Director Brad Ford to recreate the NY NOW experience.
New branding
The new branding includes a vibrant visual identity in its logo and graphics system. Reflected by a variety of styles, typefaces, motifs and colors, they convey that the retail industry is ever-evolving.
Artful product displays curated by Ford will greet attendees as they enter the facility. The show floor will spotlight up-and-coming brands through a collection of seven emerging destinations.
Also on display will be an assortment of items from the 365 NY NOW Digital Market. Launched last October, it offers digital participants a unique opportunity to have a physical presence at the show.
Featured brands, 25 percent of which will be exhibiting for the first time at NY NOW, will be showcased at 11 sections of the show. These include Accent on Design; Accessories; Artisan Resource; Baby + Child; Gift + Stationery; Handmade Designer Maker; Handmade Global Design; Home Design; Luxury Lifestyle; Tabletop and Wellness.