Las Vegas Ups Technology for Future-Ready Events
Las Vegas is home to world-leading tech conferences, such as Amazon Web Services (AWS) re:Invent in late 2021 and CES in January 2022. It's where the world's brightest minds once again are coming together – in person – to discuss the very future of tech, digital transformation, and innovations to help people live and work more productively. It's only fitting that as a destination, Las Vegas is transforming the guest experience. Unique venue technology ranges from secure hybrid meetings, contactless payments, to some of the largest digital screens in the world.
"I believe that the COVID-19 pandemic has led to a higher level of technology acceptance than we had previously seen within our industry," commented Amanda Belarmino, assistant professor at William F. Harrah College of Hospitality, University of Nevada, Las Vegas. "All of the current evidence indicates a higher level of technology acceptance across the board. I believe that Las Vegas will be at the forefront of this innovation."
Las Vegas Convention Center West Hall
The design, featuring an abundance of natural light and the largest digital experience in the U.S. convention and exhibitions industry, welcomes attendees to the new Las Vegas Convention Center (LVCC) West Hall expansion, which opened in June. Branding opportunities, sponsorships and other content get center-stage treatment with a 4.0mm Pixel Pitch LED Samsung video wall that spans 10,000 square feet in the main atrium and a cutting-edge signage network throughout the facility. The 1.4 million-sq.-ft. expansion is equipped with power and data floor boxes and a new rigging structure with 2,000- and 4,000-pound rig points. See all the new features of the West Hall with a 360 Virtual Tour. A fun and convenient way to experience the emerging tech is certainly the ride in a Tesla on the Convention Center Loop, built by Elon Musk's The Boring Company, that connects the entire LVCC campus. Now a typical 25-minute walk only takes approximately two minutes via the LVCC loop.
Resorts World Las Vegas
The first ground-up resort development on the Las Vegas Strip in more than a decade, Resorts World Las Vegas lets brands and events make a splash with a 100,000-sq.-ft LED screen dedicated to providing immersive content.
Contactless tech is transforming the experience here. Guests can order room service or snacks by the pool from the property's 40 restaurants and bars through Grubhub, an online and mobile food delivery company, through the new On The Fly platform.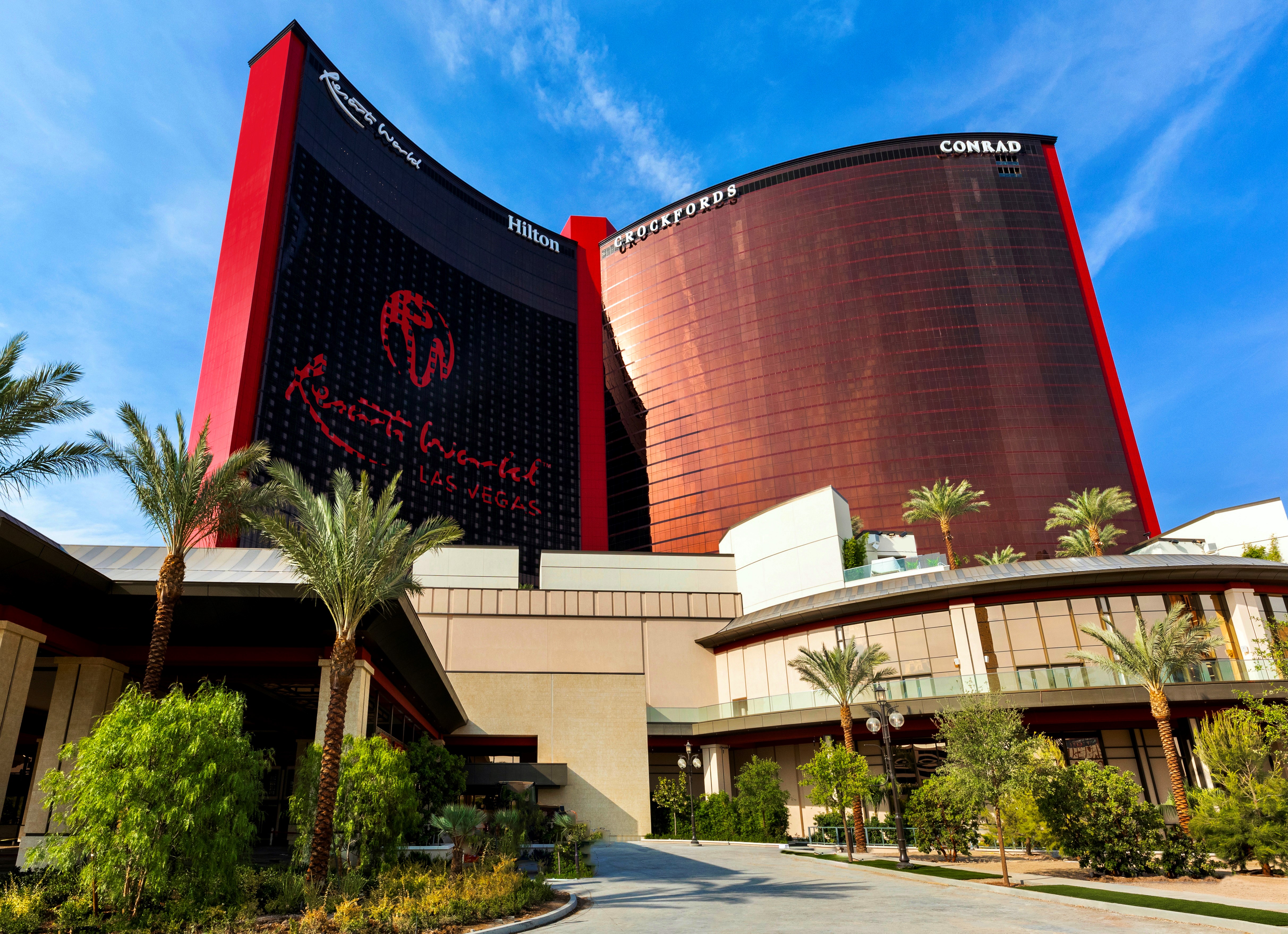 It's also the first Las Vegas resort to use Amazon's Just Walk Out technology in its Fred Segal Market. Guests enter using their credit card and the technology detects what they take from or return to the shelves. When guests have completed their shopping experience, they can just walk out and their credit card is charged for the items they took.
Mandalay Bay Convention Center
The Mandalay Bay Convention Center recently upgraded from Cat6 Ethernet cable connection to augmented Cat6a Ethernet that pushes the data transmission rate limit to 10 gigabits per second and provides twice the maximum bandwidth of Cat6. At this speed, it's possible to download a 4K movie in less than 30 seconds or stream around 1,700 movies simultaneously. It's 9,400 percent faster than the average internet speed in America.
The Venetian Resort and Venetian Expo
Venetian Expo is making a foray into contactless food delivery with its In-Booth Dining platform that allows exhibitors to order a variety of hot and cold foods as well as snacks and beverages to be delivered directly to their booth. Kosher and Indian cuisine are also available. Planners can also take advantage of the Venetian Meeting VR Planner, a web-based tool that showcases the company's 2.25 million sq. ft. of meeting space; design and customize events, and then explore them through 3D renderings and augmented reality.
Park MGM Ideation Studio
Hybrid meetings are here to stay. One of the newest additions to the Las Vegas meeting scene is this 7,000-sq,-ft. Ideation Studio that offers Cisco Webex boards and Cisco Webex teams, blending real and virtual meeting space for collaborating, video calling, whiteboarding, and sharing files and presentations. The space can recognize a person's device as they enter their designated room and allows them to join a secure meeting space without passwords. During the meeting, the system captures the team's notes and streamlines a secure workflow.
Las Vegas is open and ready to welcome events and trade shows without restrictions involving capacity limits and large gatherings. Visit Meet Smart, Vegas Smart and Vegas Means Business for the latest updates and information for meeting and event planners.